Carlos Fentanes (CF): I received an invitation from Keri James about the Banditto Residency Prize. Then I tried to do some research and I couldn't verify anything, nor the owner of the gallery, the place is for rent in Airbnb but there's no reviews. Everything seems a scam.
And then I found some comments on Facebook.
Who you really are?
Banditto Gallery (BG): Hi! If you don't feel comfortable just ignore the email. If you unsubscribe at the bottom of the email, you won't receive any more mails from us.
For us this competition is a nice way to get in touch with new artists. We keep the price very low because we know how hard it can be for artists.
We feel that we offer something really nice and the artists that have been with us seem to agree
If you give me your email I can also remove you from the list
CF: That's the easy way but that's not correct.
The question is what is wrong with the way you are promoting your prize? There's a lot of misinformation on the web about it.
How do we can correct this?
BG: Hey! Good day!
What kind of misinformation?
You can find all the information regarding our competition on our website
If you have any questions
I'm here to help of course
If you search in Google for Banditto Regards Prize, in the first page of results appears the website of the gallery but also a bunch of sites about warning for art scams.
My name is Roy btw
CF: There are no news about other winners
BG: I usually don't do the Instagram page
It's weekend so I sometimes check it
😉
Heyyy but there are!
CF: Roy, you're the owner of the gallery
BG: Sol is doing an exhibition!
CF: I looked for your profile too
BG: We are hanging her work as we speak!
She will join us in September
Last week I think for 10 days
She one last time
Should be on our website also
Did you sent me a friend request?
Only recently started the profile so I'm looking for friends 😉 haha
CF: I don't know, maybe
There's no information about you on LinkedIn either.
BG: About me?
I have a page
Didn't see it?
Don't use it often but there should be a page
CF: Yes
I saw your page but the information there is confuse
BG: Hahah probably because I never use it
What did you see?
What was strange?
I'm sorry but I'm not really into social media myself.
But tell me what was strange ?
CF: I saw a website called CrunchBase
BG: ?
Don't know what
O wow
What does it say?
CF: I think it's about funds and how to invest money

BG: Do you have the link for me?
Haahah how cool is this
I googled my names and crunch base
Haha you find meetink
Was the first company I started
10 years ago
Wow
But what is your question?
What is strange about the LinkedIn profile?
Maybe I can improve
CF: On that site there was no information about your art entreprenourship
BG: On LinkedIn?
CF: no, on crunchbase
BG: I never even heard about crunchbase
So I don't know how my info ended up there
Meetlink was my company though
But was a long time ago
I sold it
Or at least the software we developed
Where are you from?
CF: I live in Canada
but I'm from Mexico
BG: Cool
CF: Mexico-Canadian?
BG: Well I've been checking your profile but you are very talented
Yes Mexico first of course
Mexican living in Canada
I'm Dutch but live 6 months a year in Italy
Carlos is you name?
CF: Carlos is my name
BG: Nice to meet you Carlos
👋🏻
CF: Nice to meet you too, now I'm more confident about your gallery, maybe I should apply
BG: Well you can always visit first
But is a long drive hahah
Glad you contacted us directly
CF: It's the best way to make friends.
BG: Well nice to meet you Carlos
When I think of Mexico I always think of that goalkeeper that could play soccer very well
You know his name?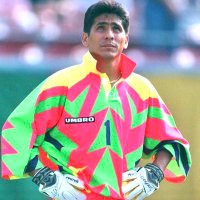 CF: Campos?
BG: Haha yes!
Liked him a lot
CF: He's a hero in Mexico
BG: Loved him when I was a little boy
CF: 👍
Here we finished our conversation for today, but I'm sure we're going to be connected for a while since now.
And with a connection also comes opportunities and that's what I'm looking for now.
At the end I applied for the residency price.