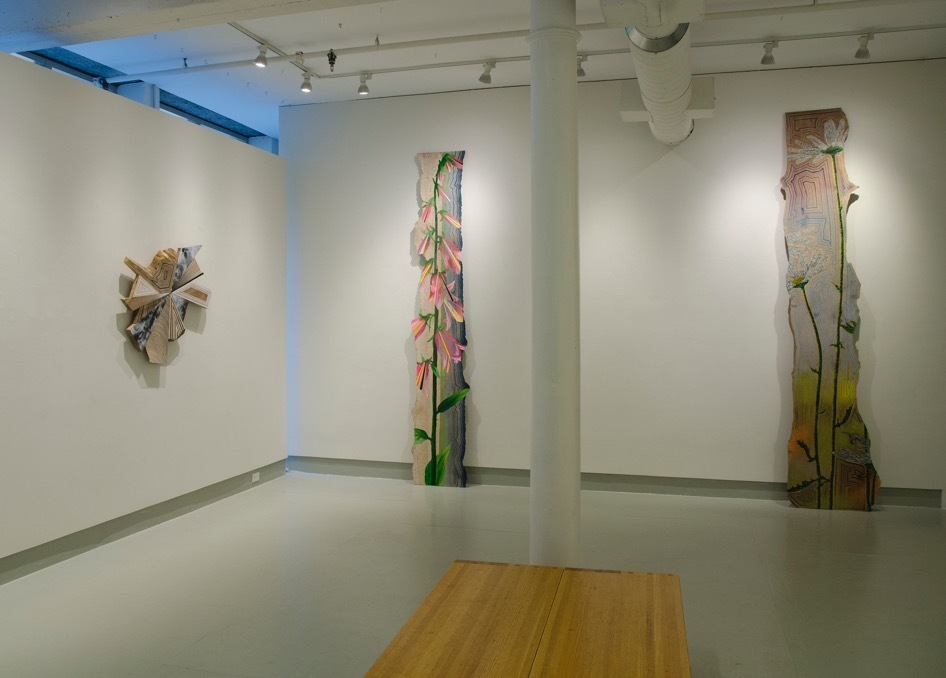 Me: Hello, I have some visual conflicts with this Jason Middlebrook pieces.
I like the way he left the shape of the wood and the drawings on them but the way they are shown still doesn't convince me, I have seen some pieces from other artists like Gabriel Orozco with the same kind of display concept and for me is like somebody forgot this objects there and then I wonder how it'll fit in my home.
Why is not hanging on a wall like a painting or with a base like an sculpture?
Gallery: They can be hung.
The answer was 10 days after I sent the message.
Finally on day 6 I get a belated answer from a gallery and it didn't answer my question: I asked why? I know that if I buy a work of art and can hang it on my wall or put it as a dinner table if I want; of course I know that the pieces can be hung, my question was more about their museographic decision. Why? Why do they put the pieces on that way.

Something is wrong in the way I'm starting the conversation because that's not the answer that I want to hear, that's not the answer of somebody who is passionate about art at all. Do I want my art hung in a gallery with very simple sentences? No, of course not.

Gallerists look for passion in an artist, and that's reflected in his work, but also in everything else, everything communicates: your website, your posts, your questions and your answers.

I can say the same thing about galleries, everything communicates: the way the works are shown, the space, their website, their posts and their answers. There is a website LaMontagneGallery.com that hasn't been updated for a while but there's another website on https://helix-panda-mk2c.squarespace.com/ that's the real web address and that address is not an easy name to find on the internet and when you ask something they answer after 10 days and says three words, three words!

I wonder if something similar happened with me, how long it takes for me to answer a comment or a mail or the phone? and how did I respond? was I be passionate?

I think that now I'm finding answers in this exercise. Something to put on my list for the next gallery.